Radio X5 Stereo Academy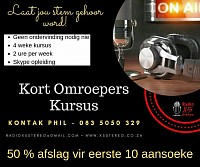 Kort Omroepers kursus
Spesiale aanbod! Doen nou aansoek vir ons kort omroepers kursus by Radio X5 Stereo en die eerste 10 aansoeke kwalifiseer vir n 50% afslag ! Geen ondervinding nodig nie, 4 weke kursus, slegs 2 ure per week en opleiding geskied deur Skype/ waarvoor wag jy? Laat jou stem gehoor word! Kontak Phil by 083 5050 329 of per epos by radiox5stereo@gmail.com vir meer inligting.
Presenter / Omroeper Phil Jansen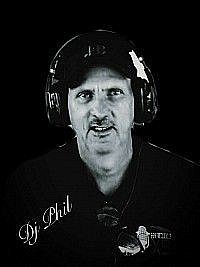 Stigter /Stasie bestuurder / Omroeper/Tutor
Phil is die stigter, stasiebestuurder en voltydse omroeper by Radio X5 Stereo. Hy bestuur ook alle tegnies, administratief en bemarking op Sosiale media. Die nuwe omroepers word ook deur hom opgelei in ons Akademie. 
  Phil takes care of the business, technical, administrative marketing, and social media aspects of Radio X5 Stereo.